Lodges with Hot Tubs in Scotland
Holiday lodges with hot tubs are perfect whether you plan for a romantic getaway or to just spend some quality time with a bunch of friends. Hot tubs also help us to relax and unwind, and the best part is you can enjoy a hot tub whether it's raining or shining. There are a dozen holiday locations in secluded forests and clifftops with panoramic views within Scotland that have self-catering, and with access to local amenities. If you can picture yourself on a holiday like this, then the research we did on finding some fabulous holiday cabins will be sure to impress and get you into the mood of booking your own cabin holiday soon. So let's take a look at a few of the places we found, their features and what they have to offer, whether it's by a loch, further away on custom build park on the Scottish boarders, or hidden in the Scotish woodland. There's something here for everyone to visit and enjoy.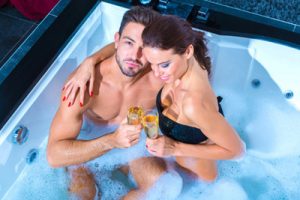 Ebba Lodge, Coldingham, Scottish Borders
Ebba Lodge resides in a lodge park and is a custom built high quality accomodation, giving off a rustic feel. The building features a large private deck with its own hot tub and a fully equipped kitchen perfect for self-catering. Ebba Lodge is a great place to stay if you plan to explore the Berwickshire coast line. It averages at £101 per night.
Burnside, Dalavich, Taynuilt, Argyll
Burnside is a charming authentic holiday cabin with an abundance of character and surrounded by beautiful woodland, it boasts a wood fired Scandinavian hot tub, but that comes at an additional cost of £60 per stay and is required when booking. Burnside features an open plan lounge with all self-catering and up-to-date kitchen appliances. Argyll is a great place to explore and if you fancy a day outside, the cabin is just a short walk from Loch Awe. The cabin averages at £77 per night.
 Innis Chonnel Cabin, Loch Awe, Taynuilt
Just up from Dalavich is another unique holiday cabin that promotes a tranquil atmosphere with its own luxury hot tub. It has a private balcony that has stunning views of Loch Awe. The cabin is a five berth, so there is plently of space to relax. The cabin comprises of open plan living room/kitchen, two bedrooms with access to a showered bathroom. There is lots to see and things to do with boat and bike hire avaliable nearby, and you fancy eating out the Lochview Bar and restaurant is highly reccommended. It averages at £111 per night.
Lochside Lodge, Loch Awe, Scotland
Lochside Lodge delivers a true log cabin experience for all visitors who have the opportunity to stay. It is situated right on the edge of Loch Awe and comes with access to a wood burning hot tub. The lodge consists of an open planned living room, dinning area and kitchen, a twin room comprising of bunk beds, so would be great holiday for a family with children. The main bedroom looks out directly over Loch Awe, and boasts its own ensuite.
To anyone who truely wants to get away from the rat-race for a few nights holiday Lockside Lodge is a stunning private place. It has it's own fishing rights and there is access to a boat launch area. It also has access to free Wifi, so you can still surf the internet and stay in touch via social media, but you'll probably be busy taking pictures of the beautiful scenery surrounding Lockside Lodge. The lodge averages at £109 per night.